CHAS
QCoast2100 recognises that local governments along the coast are at different stages in their adaptation work, from 'not commenced' to a completed comprehensive coastal hazard adaptation strategy requiring implementation studies. The Program also acknowledges that each local government's circumstances and context is unique. However, there are a number of core steps required to ensure a local government has the appropriate level of information to allow practical decision-making and implementation to occur.
These core sequential steps in developing a coastal hazard adaptation strategy (CHAS) are shown in the diagram below. Refer to the Minimum Standards and Guideline for more details on the requirements for each phase of a CHAS.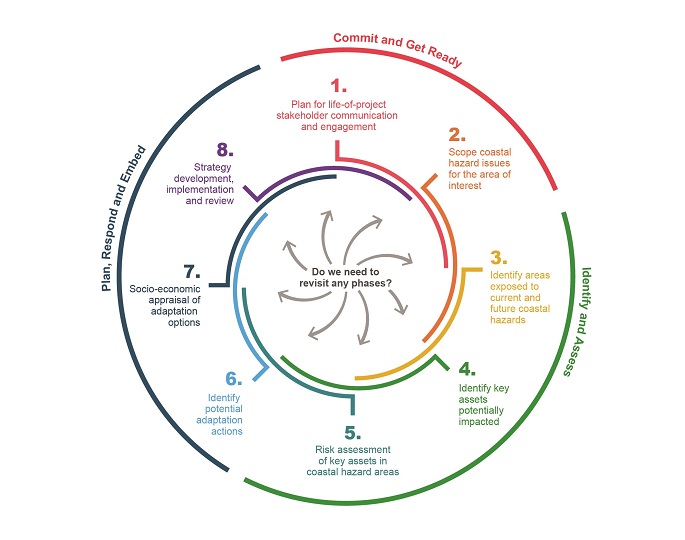 Funding is available for one, some or all eight phases of a CHAS as indicated in the diagram above. These may also include:
Review of existing data and assessments/studies undertaken to assess relevance, currency and suitability in the current context and in moving forward.
Collating or procuring hydrodynamic models (from private organisations or academic/research organisations) that have already been developed, calibrated and are ready for use in the region.
Collating or procuring data for assessments required such as floor level data, ecological survey and ground elevation data. If a survey or data collection is required for the project, it must be demonstrated that no existing data is available for the proposed area or if it is available, it is not suitable for the proposed project.
Coincident flood probability assessment where applicable. If deemed necessary by the Program Manager or the Board, funding may be considered for the probability assessment of coincident flooding. Funding will not be approved for the coincident flood modelling component as this is reliant on councils having an accurate and reliable terrestrial flood model, the development of which is outside the scope of this Program.
Approach for councils with minimal coastal hazard risks
Councils with minimal or low coastal hazard risks can be defined as:
Councils who do not have significant assets within the coastal hazard area.
Councils with only riverine or estuarine systems that are impacted by coastal hazards. In many of these areas the terrestrial flood hazard could potentially have a more significant impact compared to the coastal hazard.
Whilst​ it is important for these councils to understand the coastal hazard risks within their LGAs, the standard assessment processes described above may not be required. For these councils, it is imperative that a Phase 2 (scope coastal hazard issues for the area of interest) be undertaken first to determine the significance and extent of coastal hazard area / assets at risk and to determine if a comprehensive CHAS is needed.
Pilot projects
Funding will also be considered for pilot projects and/or projects with proposed methodologies/approaches that sit outside the recommendations prescribed in the Minimum Standards and Guideline. However, the merit of undertaking such projects, be it to align with council specific needs or to assess the efficacy of such methodology must be demonstrated clearly.
Funding approval for these applications will be subject to the review of the Expert Panel and endorsement by the Board.
Exclusions
The Program will not fund:
detailed design works for ongoing or selected adaptation works.
capital works or any aspect of construction.
any studies or data collated to assess catchment specific hydrology and floodplain/terrestrial/fluvial flooding.
conditions assessment of any assets e.g. structural evaluation of seawalls.
role/roles of council staff/officers.